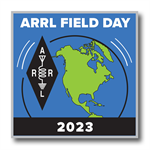 MARCA Details for ARRL Field Day 2023
Location: see Field Day Map or click here.
Find us on the ARRL FD Locator too.
MARCA will be operating as a class 2A field day station. Class 2A allows 2 regular stations plus a GOTA station, a vhf station, and a satellite or packet station. We will operate Phone, CW, TTY, PSK, some FT-8 and FT-4, and other digital modes.
Set your GPS for 34°18'3.76"N 110°42'48.26"W. ( 34.301321° , -110.713044° )..
All hams, those interested in being Hams, families, friends, and neighbors are welcome. If you would like to participate, please email one of the committee members (listed below) with the number of people in your party, the number of hams and your approximate arrival time. Also, let us know if you can bring a rig or other equipment. Other equipment might be headphones, your favorite key or paddle, coax with PL259s etc. The club has sufficient deep cycle 12 volt batteries to operate planned Field Day stations during contest period.
Equipment setup will start on Friday afternoon (June 23rd) 1:00 pm-ish and finish on Saturday morning (June 25th).
Field Day contest operations starts Saturday morning June 25th at 11:00 am and end 24 hours later on Sunday morning June 26th at 11:00 am.
After the operating period ends, we will tear down and be ready to hit the road back to the "cool" valley mid Sunday afternoon.
Paul Bennett, kd7kdo, is the official CW "copier" of the ARRL Bulletin. All interested in participating in this 30 minute activity are Welcome. Paul will post the time of this event at the Visitors' table.
Becky Johnson is our Social Media Manager. If you are into Social Media and would like to participate, contact Becky. This will be done using Facebook.
Becky Johnson is also our Safety Officer. She will be overseeing the safety of the site setup, Antennas, Operating Stations, Cooking site, and general everything to do with our having a safe Field Day. Listen to her!
There will be a Visitor Information table with schedule of events, Guest Visitors Book, Amateur Radio information, and MARCA information.
A training class with a interesting hands-on project is being planned. The project is open to all attendees. The class is Saturday and time will be announced and posted at the Visitor Information table. Duration is 90 minutes.
A MARCA sponsored BBQ is planned for Saturday night. (bbq, hot-dogs with the "fixins", beans, chips and soda). We also are planning on a large stack of pancakes, sausages, and eggs on both Saturday and Sunday mornings. You should provide all of your other meals, snacks, drinks, water, etc.
Join us for the entire field day event Friday, Saturday and Sunday, for the weekend or just come up for the Saturday operations and Saturday evening bbq.
MARCA FD Committee
Paul Bennett, kd7kdo,
Norm Johnson, aa7oo, 480-278-2886, This email address is being protected from spambots. You need JavaScript enabled to view it.
and You?